Gunman shoots self during robbery | News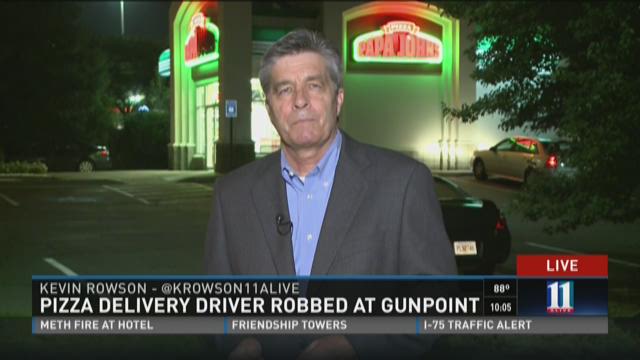 MABLETON, Ga -- Cobb County Police are looking for two gunmen, one of them may have a gunshot wound to his foot or leg. They are accused of robbing a pizza delivery driver.
It happened shortly after midnight Monday morning. It was one of the last deliveries of the night from a Mableton Papa Johns by a 27-year-old employee. Police are investigating whether the delivery man was set up.
The delivery driver was making the delivery to an address on Glore Road, just off of Veterans Memorial Highway in Mableton. When he got there police said he was jumped by two men who got out of a silver Chrysler 300.
One of the suspects pointed a gun at the driver and when the other suspect got out of the car, the gun he was carrying went off, according to police. "The way it was described to investigating detectives it was more or less accidental," said Sgt. Dana Pierce. "It was probably a surprise to the victim as well as the suspect."
According to a police incident report the suspects made off with a pizza, 32 BBQ wings, a cookie, and 50 dollars in cash. But police said one of the men also left with a self-inflicted gunshot wound to his foot or leg.
Police are investigating the possibility the robbery was a set up. A neighbor who lives next door to the home where the delivery was being made said the residents were not home the night of the robbery.
Police are asking anyone with information, especially about someone who may have a gunshot wound, to call Crime Stoppers at 404-577-TIPS (8477).
You can follow Kevin on Twitter @krowson11alive and like him on Facebook